Sustainability Management Plans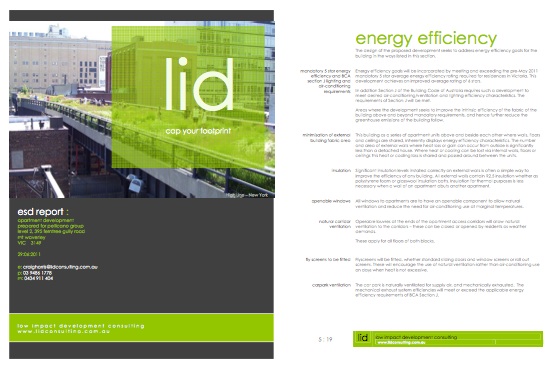 A significant and increasing number of councils require ESD report / ESD management plan / Sustainability Management Plan reports with new larger sized developments, prior to granting planning permit approval. Currently these councils include: Banyule, Darebin, Greater Dandenong, Hobsons Bay, Kingston, Knox, Manningham, Moreland, Port Philip, Stonnington, Whitehorse, and Yarra.
Experience/Expertise
We are experienced in providing such larger project ESD reports to satisfy council requirements. A small sample of projects we have completed includes:
184 apartments + commercial Duckett St Brunswick – MOS Architects
125 apartments Porter St Prahran – BG Architecture
78 apartments Station St Box Hill – Romano Property Group
76 Apartments Toorak Rd South Yarra – Rothe Lowman Architects
70 townhouses Epping Rd Wollert – Develco Capital
68 townhouse subdivision Plenty Rd Bundoora – SJB Planning
67 apartments Market St South Melbourne – BG Architecture
55 apartments Heidelberg Rd Ivanhoe – BG Architecture
35 apartments Lygon St Brunswick – BB Design Group
24 townhouses Lockhart St Mernda – Develco Capital
19 apartments Cape St Heidelberg – Peter Brown Architects
17 apartments Beach Rd Parkdale – Nicholson Wright
Office + factory development Hartwood Court Chelsea Heights – MK Building Group
Office Thames St Box Hill – DZine & Construction Group
Library Newport – Haskell Architects
Church + function centre Anderson's Creek Rd Templestowe – Victorian Extension Design
Bus depot + workshop + office Kingston Rd Heatherton – DZine & Construction Group
Factory Princess Hwy Noble Park – Sims Metal
Showroom Madden Gve Richmond – Red Box Developments
We are also experienced in providing simpler less expensive reports for smaller sized developments (generally under 10-15 dwellings or smaller non residential developments). See www.lidconsulting.com.au/sustainable-development-reports/sustainable-design-assessments-statements
Please contact us if you would like to discuss the process or require a quote. We will generally turn around quotes within one day.
CONTACT US
The ESD report requirements are similar from council to council but variously called:
ESD Management Plans (EMPs)
Sustainability Management Plans (SMPs)
The base report referenced in a Sustainability Management Plan is now the council developed BESS (Built Environment Sustainability Scorecard) tool which is intended to replace the previous STEPS (Sustainable Tools for Environmental Performance Strategy) and SDS (Sustainable Design Scorecard) tools. Additional input requirements include Water Sensitive Urban Design (WSUD) tools such as the STORM or MUSIC tools and preliminary energy ratings. Preliminary energy ratings are undertaken with a view to providing feedback to designers prior to planning permit stage in relation to the potential the energy efficiency of potential designs.
At LID Consulting we nominate the strategy to ensure council planners are satisfied with your ESD initiatives, work through options and complete the input tools, and write a comprehensive report based on your agreed elements, that speaks councils language and saves you time. We are experienced in delivering successful applications.