Sustainable Design Assessments / Statements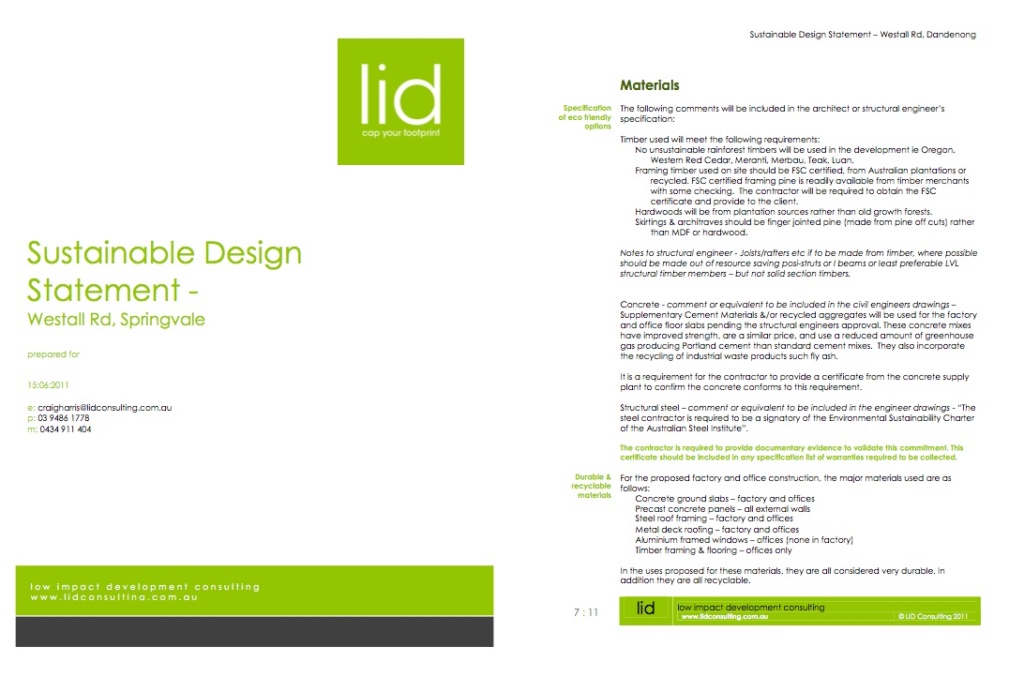 Low Impact Development (LID) Consulting are experienced in producing Sustainable Design Assessments to meet council requirements. We make project specific building sustainability recommendations to the designer/client, discuss any items in further detail as required, and document agreed project inclusions. Our experience provides us with the knowledge as to the main requirements Council looks to see included in new projects.
Expertise/Experience
14 apartments Highmoor Ave Abyswater – Peter Brown Architects
12 apartments Woodvale Rd Boronia – ABP Consultants
11 apartments Boronia Rd Boronia – Peter Brown Architects
10 townhouses Winfield Rd North Balwyn – Zai P/L
10 apartments Stamford Crescent Rowville – ABP Consultants
8 apartments Chesterville Rd Cheltenham – Bowden Planning
8 apartments David St Preston – Beyod Design Group
7 apartments Lygon St Brunswick – John Michelakos Architects
6 apartments + shop Waterloo Rd Oak Park – Sync Design
3 apartments Dow St South Melb – GDM Constructions
3 townhouses Adler St Burwood – SJB Planning
2 townhouses Botherambo St Richmond – Steffen Welsch Architects
Please contact us if you would like to discuss the process or require a quote. We will generally turn around quotes within one day.
CONTACT US
A significant and increasing number of councils require a Sustainable Design Assessment / Sustainable Design Statement  with new developments, prior to granting planning permit approval. Currently these councils include: Bayside, Darebin, Greater Dandenong, Hobsons Bay, Kingston, Knox, Manningham, Moreland, Port Philip, Whitehorse, and Yarra.
Where the council wants a simple STEPS report they will generally refer to this. Where the size of the development exceeds a simple new house or dual occupancy, the above councils will generally require more than the STEPS report alone. Where the project is less than 10-15 apartments/townhouses or 1000m2 if it is a commercial development, the above councils will most likely request a Sustainable Design Assessment / Statement. If the development exceeds these approximate thresholds the councils will most likely require the more detailed ESD Management Plan reports.
With Sustainable Design Assessments / Statements the base reports used are the council developed STEPS (Sustainable Tools for Environmental Performance Strategy) and SDS (Sustainable Design Scorecard) tools, although these assesment tools are expanded upon.
For further information on the new ESD sustainability assessment process currently at varying degrees of implementation at different councils refer to information on the policy Sustainable Design Assessments in the Planning Process (SDAPP) or refer to the following links:
For Yarra Council http://www.yarracity.vic.gov.au/Planning–Building/Environmentally-Sustainable-Design/Sustainable-Design-Assessment-in-the-Planning-Process-SDAPP/
For the City of Kingston http://www.kingston.vic.gov.au/page/page.asp?Page_Id=186&h=0
For the City of Port Philp http://www.portphillip.vic.gov.au/sdapp.htm