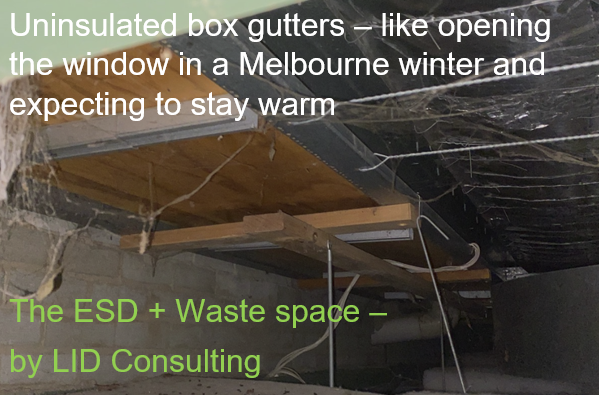 While this roof space picture does not demonstrate an extreme example of the gaping issue with the insulation of many existing roof spaces it does demonstrate the problem. The whole roof has blanket insulation over the purlins but none under the box gutter save for the plywood support, assumed to be approx. 15mm plywood. So the roof overall has typically R1.4 (older roofs 50mm blanket when installed correctly) or R2.5 (newer roofs 100mm blanket when installed correctly), and the plywood under the box gutter R0.11. So there is a massive gap in the insulation under the box gutter – usually a substantial area.
On chatting to a couple of roof plumbers about this and running rectification ideas past them, they confirmed insulation was not commonly installed under and around box gutters. It is like leaving the window 100mm open in a Melbourne winter and expecting to stay warm.
Another issue we found on this current project is the flawed idea that insulation batts on commercial office ceiling tiles will remain in place during the life of the building when the ceiling space is periodically accessed by trades. They won't. There will be gaps everywhere pretty quickly as trades access the roof space.
Stay tuned for a solution we are investigating in this scenario where removing the roof and bulking up the roof insulation is not an option due to not enough parapet height to cover a raised roof.