simplifying sustainability
Building modelling – optimising upgrades for energy daylight efficiency 
At Low Impact Development Consulting we can help designers and developers to prioritise where to focus building fabric systems money, for the best operational energy and carbon emission reduction outcomes.
Where a large building with potentially high energy consumption is proposed as new or to be retained and refurbished, it is worth considering constructing a computer model of the building to test different scenarios and determine what is the best value for money for building fabric upgrade options. Modelling can indicate whether more unwanted heat gain or loss occurs through the roof/ceiling space, the windows, the walls or the floor.
This can impact design decisions such as which of the following will have the greatest impact on reducing future operational energy costs:
changing to surface mounted ceiling lights
insulating uninsulated box gutters
adding new or additional roof/ceiling insulation
making the the ceiling space a non-conditioned space
upgrading glazing
optimising shading of glazing
insulating walls
The cost of modelling and information gained at the design stage can be recouped many times over during the life of the building via reduced operational energy costs and carbon emissions. While not everyone is considering carbon emissions now, increasingly businesses are committing to carbon neutrality as a means to contribute to avoiding global warming and the associated catastrophic climate effects, or meet future reporting requirements. Ensuring a building fabric is optimised will save energy costs while also help to reduce the carbon emission offsets that may be a commercial reality in the future.
The additional value in modelling is that the model can also be used to demonstrate compliance with National Construction Code (NCC) / Building Code (BCA) requirements via the JV3 compliance methodology.
In summary, modelling can help to demonstrate compliance while also optimise future building performance.
Speak to our team if you would like more information.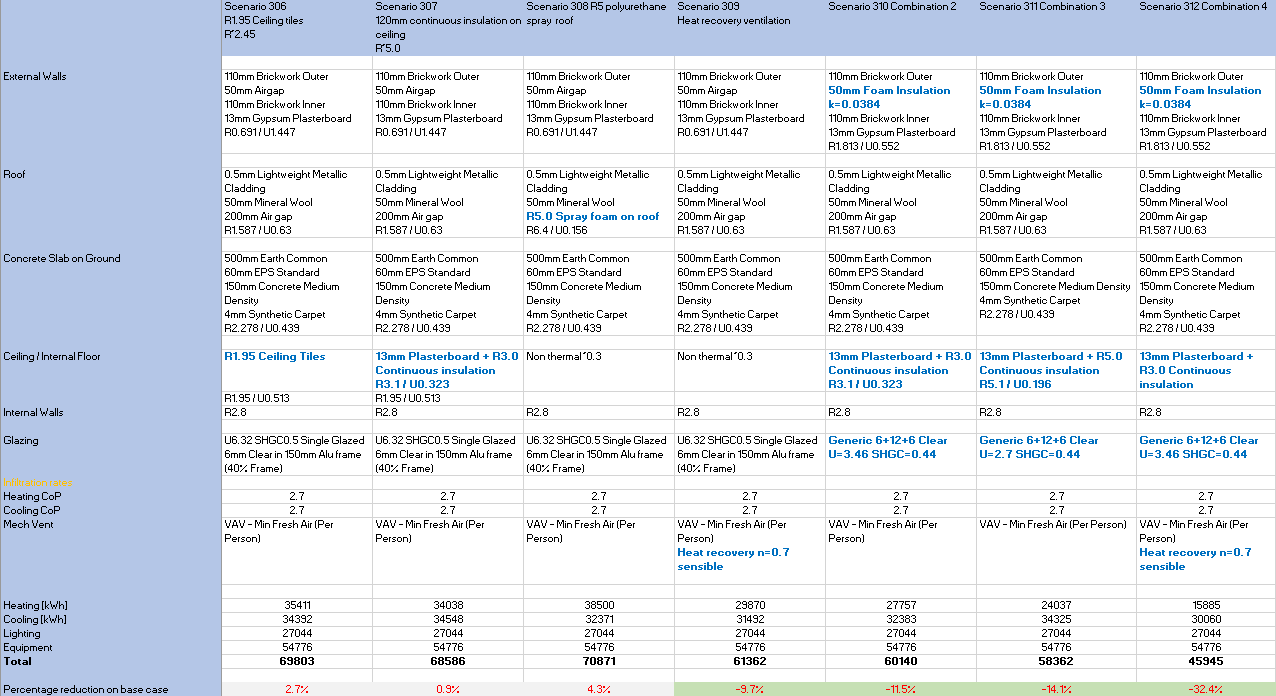 Example of different scenarios and facade options modelled with improvement results