Sustainable Design Assessments / Statements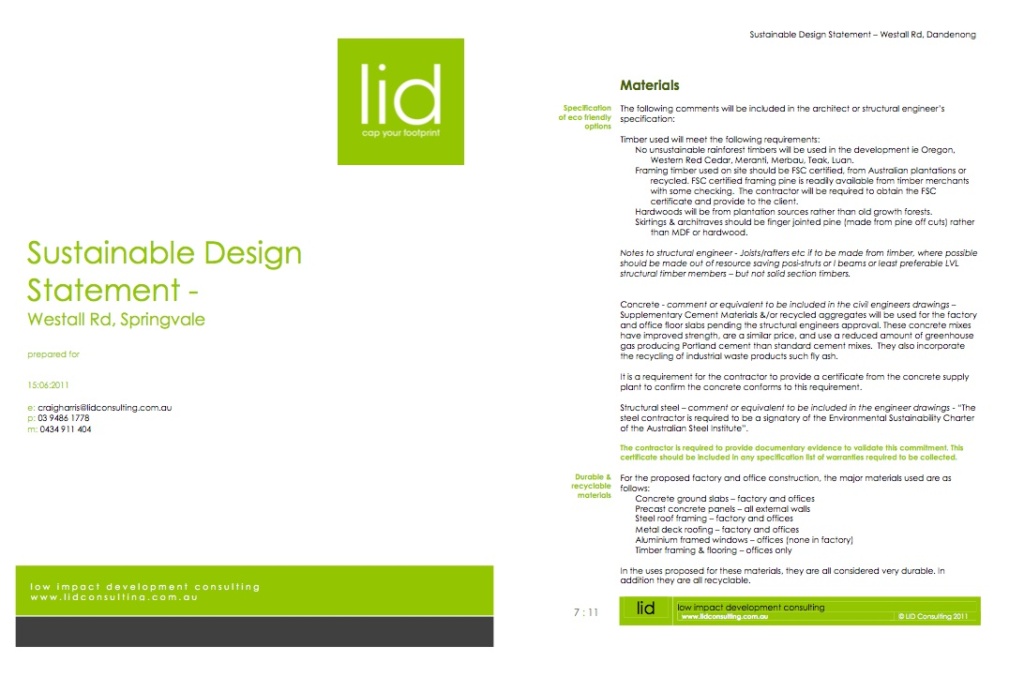 Low Impact Development (LID) Consulting undertake Sustainable Design Assessments (SDAs – also known as Sustainable Development Assessments or Sustainable Design/Development Statements), providing smart sustainable solutions that reliably satisfy council requirements, for all building project types.
Why would you choose LID for your SDA?
We have a passionate, smart and easy to deal with team
We recommend practical solutions that improve the energy efficiency of your building, the quality of indoor and outdoor spaces, reduce water use, impacts on surrounding waterways and waste, and help deliver you a better development.
Experience – we undertake over 150 SMP / SDA type ESD reports per year. But SMP / SDA type ESD reports are not all we do – see our other services!
We are fast – reports are generally completed in one or two weeks of acceptance, but can be scheduled to meet your needs.
We have experience with all councils requiring Sustainable Design Assessment (SDA) reports
Our reports are well respected by councils – we can provide names of council officers who have told us this!
Client Testimonials:
"The Maddingley Village project went very well. LID were fast and responsive and we're looking forward to a good result from the Town Planning process. We also worked with LID on Tribeca Village Point Cook, and that was similarly very positive." Stephen Matthews – Clarke Hopkins Clarke – Architects
"LID Consulting were very pro-active and approachable in their attitude to helping resolve and provide solutions to design issues." Peter Mills – Mills Gorman Architects. See our Testimonials page for more.
A small sample of SDA projects we have completed includes:
14 apartments Highmoor Ave Bayswater – Peter Brown Architects
12 apartments Woodvale Rd Boronia – ABP Consultants
11 apartments Boronia Rd Boronia – Peter Brown Architects
10 townhouses Winfield Rd North Balwyn – Zai P/L
10 apartments Stamford Crescent Rowville – ABP Consultants
8 apartments Chesterville Rd Cheltenham – Bowden Planning
8 apartments David St Preston – Beyod Design Group
7 apartments Lygon St Brunswick – John Michelakos Architects
6 apartments + shop Waterloo Rd Oak Park – Sync Design
3 apartments Dow St South Melb – GDM Constructions
3 townhouses Adler St Burwood – SJB Planning
2 townhouses Botherambo St Richmond – Steffen Welsch Architects
Please contact us if you would like to discuss the process or require a quote. We will generally turn around quotes within 24 hours and deliver reports within 1-2 weeks or to meet specific timelines.
CONTACT US
Sustainable Design Assessments in more detail
A significant and increasing number of councils require a Sustainable Design Assessment / Sustainable Design Statement with new developments, prior to granting planning permit approval. These reports are a simpler version of the Sustainability Management Plan and are generally required for developments of 2-9 dwellings or non-residential developments of under 1000m2.
With Sustainable Design Assessments / Statements the base reports used are the council developed BESS tool, although these assessment tools are expanded upon in our reports.
For further information on the new ESD sustainability assessment process currently at varying degrees of implementation at different councils refer to information on the policy Sustainable Design Assessments in the Planning Process (SDAPP) or refer to the following links:
For Yarra Council – SDAPP
For the City of Kingston – SDAPP
For the City of Port Philp – SDAPP
Or feel free to call us for a chat on 03 9016 9486.