Waste Management Plans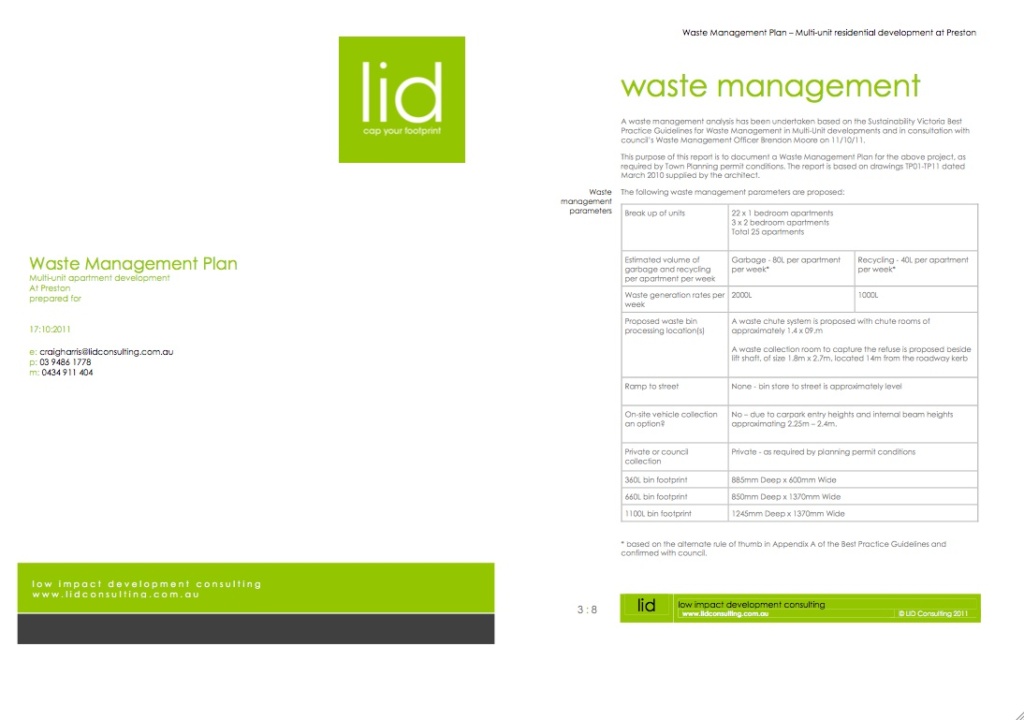 At Low Impact Development Consulting we will prepare a demolition, construction or operational Waste Management Plan (WMP) for your multi-unit, mixed use or non-residential development, independently or in conjunction with your ESD report.
Why choose LID for your WMP?
Experience – we produce over 150 Waste Management Plans per year
Fast – we turn most WMP reports around within a week of engagement but have done them sooner to meet client timelines
Well respected – council waste team members comment on how they appreciate our reports – see our testimonials
Smart procedures – as standard practice we discuss our WMP recommendations and obtain council Waste team comments prior to submission. This accounts for the variances in Council officers interpretation of what is good practice
Clearly presented – Our WMPS are well presented and easy to understand at a glance
Client Testimonials: "I just want to say, thank you so much for all of your efforts ans assistance on this job! It has been most helpful and your response was very prompt!" David Duong – PDS Group  – Development Managers
"I engaged LID Consulting to prepare a Waste Management Plan for a proposed Rural Fire Station. Not only was the price competitive but the efficiency and promptness shown was great". Aidan Richardson – Wollondilly Shire Council NSW
Call us to discuss or email your project details on pdf – we can generally confirm written quotes within 24 hours and turn reports around within 1 week.
More details are provided on our dedicated WMP website.
CONTACT US
A small selection of waste management plans successfully completed by LID Consulting include:
169 apartments Garfield St Richmond – Metier 3 Architects
78 apartments + commercial Station St Box Hill – Romano Property Group
67 apartment + commercial tenancy Breese St Brunswick – Clarke Hopkins Clarke
61 apartments + commercial Chapel St South Yarra – Homeworks Design
55 apartments Heidelberg Rd Ivahoe – BG Architects
31 apartments + 5 townhouses Park St Moonee Ponds – Clarke Hopkins Clarke
26 apartments McKinnon Rd McKinnon – DO Architects
24 apartments Bluff Rd Hampton – Real Estate Concepts
20 apartments + commercial Johnson St Abbotsford – Ratio Consultants
14 apartments Glass St Essendon – Clarke Hopkins Clarke
14 apartments + commercial Nepean Hwy Aspendale – DO Architects
41 townhouses Dunedin St Mernda – Develco Capital
28 townhouses Frankston-Dandenong Rd Carrum Downs – ST Architecture
25 townhouses Denbeigh Court Keilor – BB Design
Shopping Centre Dakabin Qld –  Lascorp Developments Group
Shopping Centre Kingston Downs Drive Ocean Grove – Lascorp Developments Group
Demolition and Construction of Woolworths store – Crows Nest
Demolition of residence McIntyre St – Gordon
Homewares Store Gipps St Abbotsford – Contour Consultants/AN+A
Offices Hopkins St Footscray – Castlerock Property
Offices 6 level medical suite Martin St Heidelberg – Romano Property Group
Offices 5 level York St South Melbourne – Clarke Hopkins Clarke
Church + function centre Anderson's Creek Rd Templestowe – Victorian Extension Design
Waste Management Plan benefits
Considering the waste management strategy early in the design development stage avoids difficult re-design issues later in a project, helps ensure best practice outcomes, and consequently will satisfy council planning process requirements. A good Waste Management Plan / process will also improve the recycling behaviour of apartment inhabitants / non-residential tenants by making recycling easy. The development will exist for multiple decades, so a small regular improved recycling performance of tenants becomes very significant over the life of a building. This is simple environmentalism.
A Waste Management Plan can encompass demolition and construction waste in addition to setting the parameters for managing residents/tenants waste when the building is occupied. At LID Consulting we can also prepare a simple to follow Demolition and Construction Waste Management Plan if required, which identifies behaviour and sub-contractors that can minimise waste, maximise recycling and reduce the waste footprint of a development. We have 15 years experience including in multi-unit and commercial design and construction so our solutions will be tailored and practical.