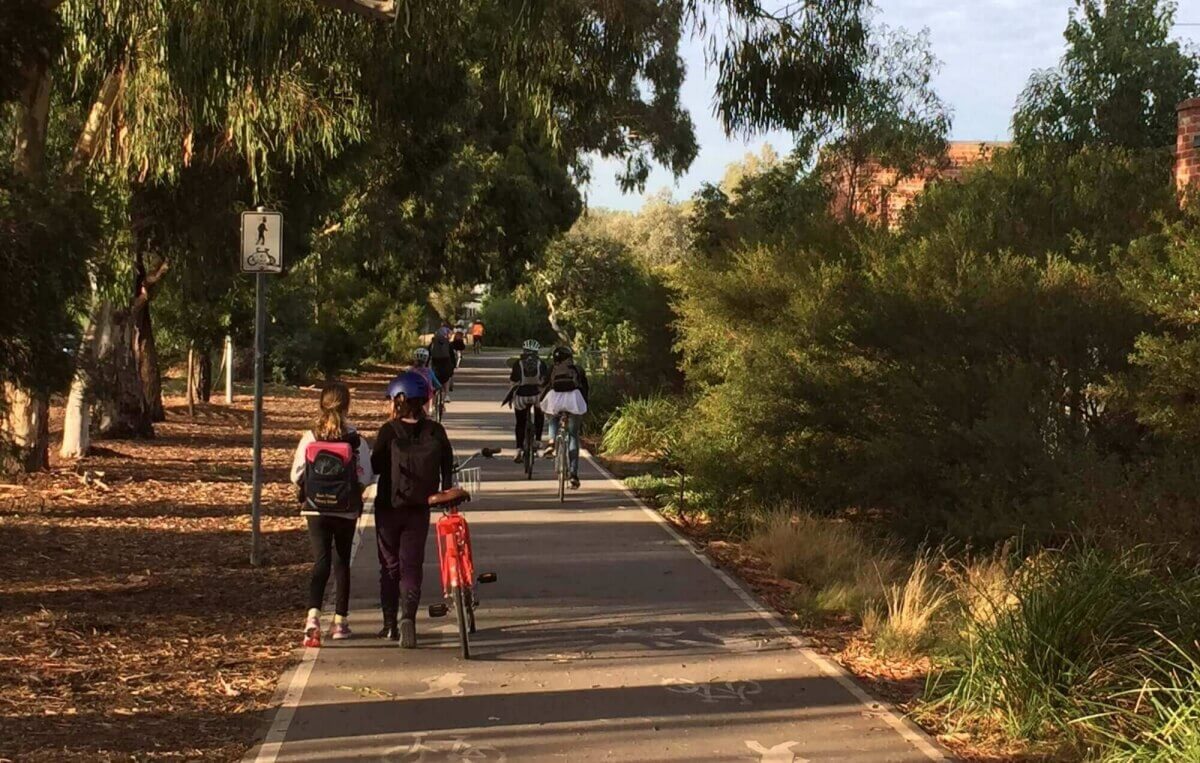 With the Victorian government's announcement of 17 new Precinct Structure Plans (PSPs) and associated new suburbs on the fringes of Melbourne, it appears we are continuing with the low density, inherently less sustainable model of Australian cities. This is a model where people rely on cars and less commonly walk, cycle or catch public transport to daily destinations.
We are presented with the idea of attractive, safe, inclusive communities – which is attractive to most people. Yet there is still more we can do once we have already committed to this city fringe subdivision model, to better improve the these aspects as well as the sustainability and health of residents.
Some of our thoughts on actions that can be undertaken follow:
VICTORIAN PLANNING AUTHORITY (VPA) LEVEL
At the VPA preliminary suburb design phase (during Precinct Structure Plan – PSP preparation):
Increase average density requirements in PSP's –

Higher density improves the viability of public transport. While we have low density suburbs longer connector trips to public transport are required, so it is less attractive to users. Critical patronage numbers are not achieved and the economics of public transport struggle to stack up.
Increased density helps deliver essential services at a lower cost.
Higher density puts more people within walking distance of key facilities.

Identify dedicated bicycle paths in PSPs. Currently dedicated walking/cycling shared paths are not included in all PSPs, rather their location, either on road path or beside a road, is determined by the road cross section classification. Dedicated or Shared paths are a secondary consideration and not necessarily designed to follow the best route or details for walking or cycling outcomes. Paths need to lead to destinations and be relatively direct.
Locate dedicated bicycle paths in green link strip parks radiating out from activity centres. This would make all activity centres readily accessible by safe and welcoming bicycle routes. These paths will create the most direct route (the hypotenuse of the triangle rather than the other two sides), ie make walking and cycling to the town centre a short cut, make the neighbourhoods more permeable, and create visual interest in neighbourhoods that will make walking and cycling more interesting.
DEVELOPER LEVEL
Community spaces / Open space design
Design Green links that radiate out from activity centres to funnel bicycle and pedestrian traffic to these centres.
Connecting parks by dedicated paths – PSPs usually include a number of large parks with small parks dotted evenly between. Ensure these parks are connected by better cycling and walking shared path facilities – off road paths that create a clear joined network.  
Create activity in public spaces – activity interests humans. We intentionally or un-intentionally meet people and interact when in public spaces, or we sit back and observe, but by being around humans we feel included. Activity draws us out-side to interact more.
Size public spaces to contain activity – don't always make public spaces too large so that they feel empty and unloved. Include playgrounds, communal seating, tables, shared paths and other activity options. Higher densities help maintain activity.
Differentiate park types such as native bush type reserves around creeks, sporting facilities and contained smaller lush green European type parks. Generally the most continuously actively used open spaces are welcoming to all including the young and the aged. These spaces are contained by surrounding residences that provide passive supervision to park users from outside of the park. They include seating, tables and playgrounds, and are most popular when they have lush grass cover and are well shaded.
An absence of under-story planting helps provide good sight lines throughout parks. When bushes are added the sense of security is severely diminished.
Remember streets are the closest public space that we visit each day – design them in such a way to value them as spaces to walk, cycle, converse, play, not just for transport.
Views – Where available community spaces should be located to take advantage of views.
Street layouts
Design simple street layouts – to aid recognition and understanding of where you are – enabling navigating into and out of spaces easily. Limit the number of turns from dwellings to accessing main roads. Aim not to exceed three.
Avoid looping street designs that artificially create greater distances to likely destinations or public transport. Create shortcuts for pedestrians such that distances to public transport does not exceed 800m.
Limit the length of residential streets to help build community.  Think about how many people you know to have a chat to in your street. Probably 4 – 10. The ideal number of dwellings for a street community is approximately 15.
Maximise use of service lanes and reserve buffers. Service lanes are an opportunity wasted when we don't connect them for commuting cycling use and comfortable walking paths set back from main roads. Connect service lanes in series so that they form a continuous safe path for pedestrians and cyclists along the length of main roads.
Ensure no dwellings or buildings turn their backs on roads/public spaces. Occupied buildings provide the important function of passive surveillance of public spaces.
Encouraging cycling and walking – New estates in much of Mel are flat. Perfect for cycling. Better efforts can be made to truly support cycling and walking infrastructure.
Adjoining land developers to co-ordinate shared path design. If major bicycle routes are not included in PSP's urban designers from adjoining sub-divisions need to co-ordinate and connect paths.
Continuous, coherent and direct shared paths to destinations. Critical.
Providing walking and cycling only short cuts through the subdivision. Short cuts not accessible to cars. These significantly increase the permeability. Eg one way streets that allow cycling in both directions. Dead ends that allow the bicycle path to continue through.
Detailing of paths is important. In many instances where paths abut at right angles people slow down, take short cuts or conflict point can occur between multiple users. A bit more concrete – splayed detail can better create space for all users.
Detailing of paths 2 – Clear sight lines for pedestrians and cyclists on shared paths. Reduces the risk of shocks or collisions. Also with cars when shared paths are near roadways or vehicle crossings.
Design shared paths in green links that radiate out from activity centres to funnel bicycle and pedestrian traffic to these centres
Continuous height footpaths crossing side streets – these demonstrates to pedestrians they are prioritised, improves the ease of walking and engenders a greater sense of safety and enjoyment and creates the speed hump in the side streets
Encourage the uptake of electric bicycles or mopeds as a car alternative – invite an electric bicycle supplier in once a month in the first year or two of estate occupation to introduce and interest residents in these bicycles
Preferred parking locations – Locate bicycle parking including electric bicycle charging stations at the premium parking locations at destinations such as activity centres, transport hubs and other facilities.
Commuting stops (eg public transport stops, shared lift pick up spots)
Improved amenity bus stops – Many bus stops in new subdivisions are just a pole and timetable ie they are unwelcoming. Provide decent shelter from wind, driving rain or the sun. Locate stops near a shop for convenience and passive surveillance. Provide bicycle parking at bus stops. Provide a few super bus stops with lockup bike cages. Locate bus stops at the end of a bike path, or have bicycle paths lead to bus stops and/or transport hubs.
Shared ride pickup locations – identify and temporarily mark out shared ride pick up locations where locals can pick up a ride with another local to drive to the station. Reduces car use and car ownership needs. Use bus stops where bus stops can be established prior to the bus route being installed. Use of social media (ideally an estate Facebook page) or apps such as BlaBlaCar (not yet in Australia), or on the ground organising of regular passengers on the same train.
Petrol station convenience stores – room for improvement.
In many cases these stores are the closest convenience store to large numbers of residences yet they are predominantly designed to face the roads and not interact with the community. Design guidelines in new estates need to cover all buildings and should require:

Convenience stores to also have an outlook to the local community
Welcome foot traffic not just cars
Estate dwelling and non-residential building Design guidelines – in many new development there are design guidelines only for residential dwellings. ESD Design Guidelines should seek:
Building inclusion with the street and neighbourhood. Building interfaces at street level are important. Also provides passive surveillance of the street.
Front porches – why have they reduced to entries only? For residences encourage a front porch big enough to sit on and enjoy an outlook over the street and connection distance for talking with neighbours. Reinstate the concept of a front veranda. Particularly important for houses with south facing backyards include in ESD Design Guidelines
Kitchens that can see out into the street as well as the back yard
Avoid blank walls and buildings turning their back on a public space or roadway
Shopping strips as spaces to congregate – all should have min 5m pavement, seating and planting space in front of all shops.
Deciduous trees and min 3m canopies out from shops except around trees. Spaces should be primarily north facing
Vegetation
Plant a plethora of trees. Native and deciduous. Coverage of roadways will help reduce the urban heat island effect.
Be selective in the use of lower level vegetation – ground level bushes, shrubs, plantings vegetation quickly looks unkept and messy.
Maintain sight lines via trees pruned below 2m and simple low level plantings. Sight lines for walkers and cyclists and vehicles while also adding to a feeling of greater safety by the removal of potential hiding spaces
Stormwater Management – Water Sensitive Urban Design (WSUD)
Design along contour lines to reduce falls and slow water flows along roadways, improving the chance of infiltration to on-road trees or through cut-out kerbing to tree pits or sunken nature strip mini retarding basins.