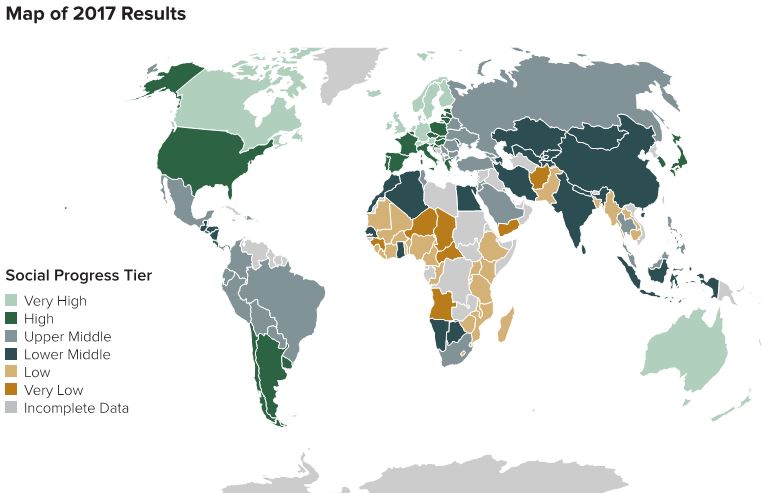 The Social Progress Index is an index that measures the capacity of a society across three broad categories: its capacity to meet the basic human needs of its citizens, to establish the building blocks that allow citizens and communities to enhance and sustain the quality of their lives, and to create the conditions for all individuals to reach their full potential.Rather than emphasising traditional measurements of success like income and investment, the Social Progress Index measures 50 indicators of social and environmental outcomes to create a clearer picture of what life is really like for everyday people. In more detail these three broad categories cover:
Provision of Basic human needs – measures food, water, shelter, personal safety, basic medical care
Access to Foundations for a better life – education, communications, better health and wellness knowledge, and a sustainable ecosystem), and
The opportunity to improve lives – personal rights, freedom of choice, tolerance and inclusion, access to advanced education.
The SPI was developed by the Social Progress Imperative and has been in operation since 2014. It allows setting a benchmark and is considered a mechanism that can measure progress towards the United Nations Sustainable Development Goals. The SPI is measured on a score between 0 and 100. It is a global measure of 128 countries. Currently Denmark sits atop the list with a score of 90.57 and the Central African Republic is the lowest with 28.38. The World average is now 64.85. Australia sits at 89.30. It is proposed that a score of 75 would meet the UN SDG's. For more detail watch Michael Green of the Social Progress Imperative
The SPI provides local value as a number of the indicators can be used at a local level for measuring the liveability of our Australian communities.
As mentioned there are no economic indicators in the SPI. Economic growth helps raise the SPI but each extra dollar of GDP gives less addition to social progress. Some countries like Costa Rica and New Zealand have very high SPI without great economic wealth just by focusing decisions not just on economic growth but on social progress. Shows there are a solution to worlds problem if we prioritise people.
Social Progress Indicators – from the Social Progress Imperative 2017 report:
More about the Social Progress Imperative: 
In his book Philanthrocapitalism (co-authored with Economist business editor Matthew Bishop), Michael Green defined a new model for social change built on partnerships between wealthy businesses, governments and community organizations. Shortly thereafter, Bishop floated the idea of a "Social Competiveness Index," the idea that one day countries would compete with one another to be the most socially advanced, in the same way as they now compete to be economic top dog. Green loved it and decided to turn it into reality.
Teaming up with Avina's president Brizio Biondi-Morra, Sally Osberg of the Skoll Foundation and many other thought leaders from businesses and foundations, he began work on what would become the Social Progress Imperative, of which he's now CEO. Later they were joined by Harvard management guru Michael E. Porter, who became chairman of the SPI's advisory board. The first Social Progress Index was published in 2014.