above and beyond
Policy and tool development
LID Consulting have extensive experience in sustainable policy and tool development. Recent work includes:
Moreland City Council Renewable Energy Standard – 2021
Moreland City Council Low Emission and Electric Vehicle Standard – 2021
Melton Council ESD Guidelines – for greenfield estates, buildings requiring planning permits, and council buildings and assets – 2019
The EnviroDevelopment sustainability tool upgrade – 2016 & 2019
The Built Environment Sustainability Scorecard (BESS) – 2016 (and ongoing)
The Better Apartment Design Standard – 2016 and 2019
The Moreland Renewable energy and Low emission and electric vehicle standards bring mandatory PV and EV infrastructure in new developments is a step closer. The work was undertaken for Moreland City Council as part of the Moreland, Yarra City Council and CASBE Elevating ESD Targets Planning Policy Amendment, which sees Victorian councils collaborating on a joint planning scheme amendment to elevate the Environmentally Sustainable Development (ESD) targets for new development (version 2 of the current local ESD planning policy). LID were excited to play the key role in delivering the research and recommendations for the new mandatory guidelines.  
As well as policy and industry tool development work, LID also developed and manage the freely available, online R value calculator tool which enables easy calculation of the total insulation R value of wall, roof/ceiling and floor compositions.
We are ongoing members of the technical reference panels for both the BESS and EnviroDevelopment tools and were key contributors to the Urban Development Institute of Australia (UDIA) submission on the Draft Better Apartment Design Standard.
Our team has consulted to councils, numerous government and industry peak bodies, and can help discuss expectations and set the conditions for sustainability focused change within your organisation or the industry you represent.
For more details, call or contact us to discuss.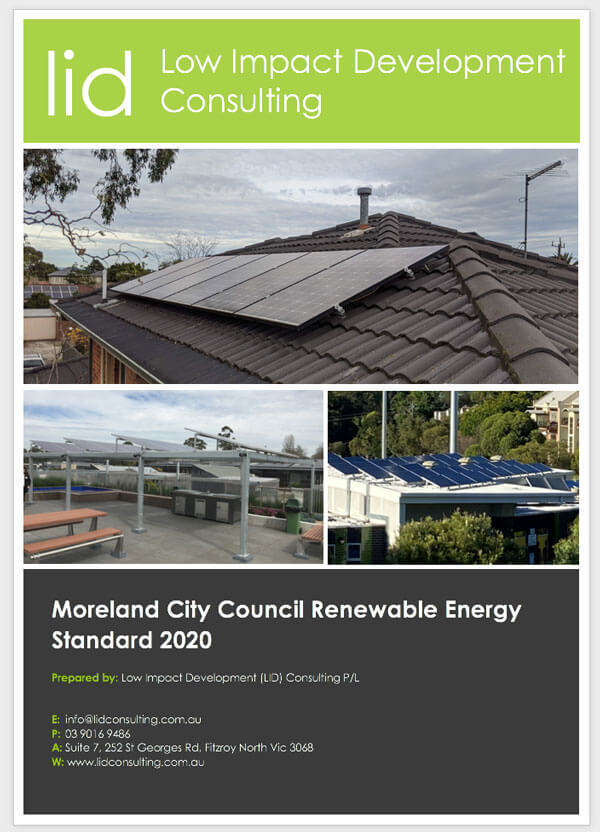 Sample front page of the LID Consulting report
"Moreland City Council Renewable Energy Standards".