the new normal
why zero carbon emissions plans (ZCEPs)?
Discussions with developers about energy efficiency and the benefits of green buildings have so far failed to translate into widespread market uptake.
It's time to promote a different goal – zero carbon emissions in the operational energy of buildings.
To reach a target you need a plan.
To build developments or organisations that are – or aim to become – carbon neutral or carbon positive, you need a plan.
Zero Carbon Emissions Plans (ZCEPs) should be prepared for all building or asset developments, or organisations, where energy will be consumed in the operation of that building or asset. This plan should outline how the asset or organisation will transition to net zero carbon emissions in operational energy.
Getting zero carbon emissions right early on saves expensive and time consuming redesign later down the track.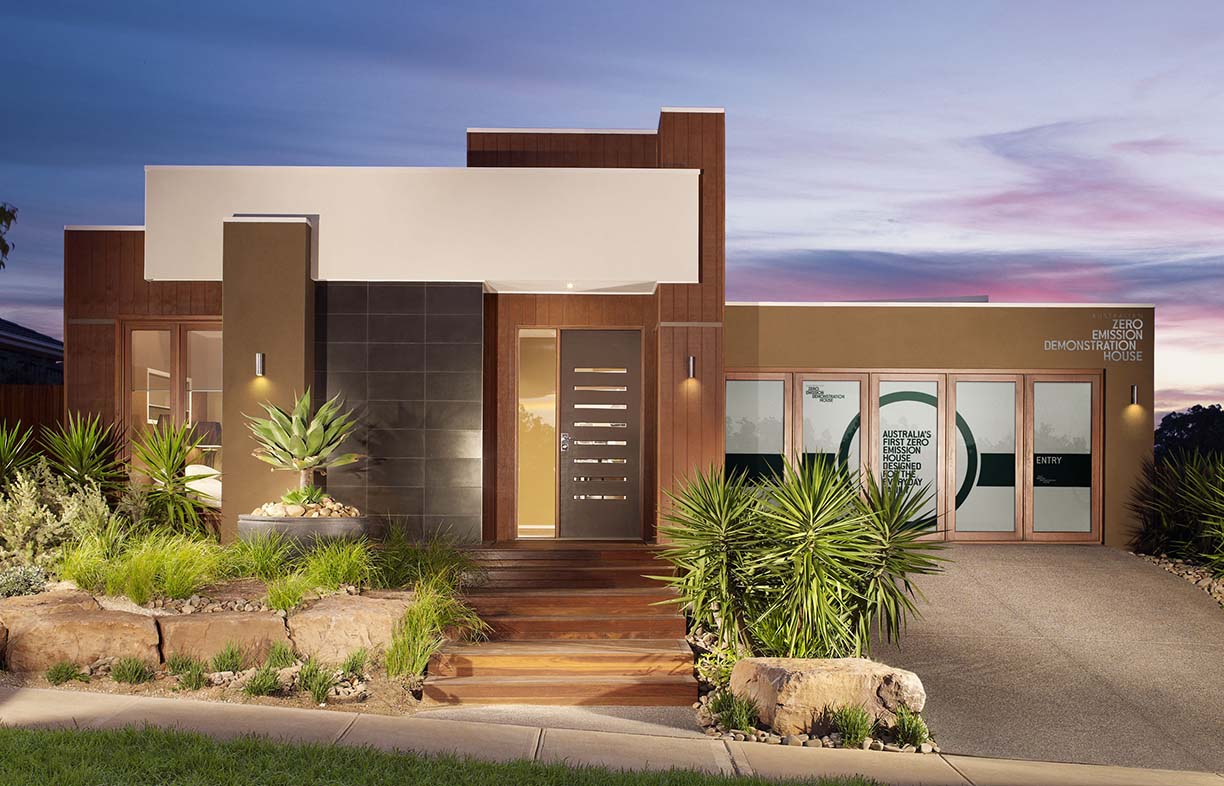 Developed by the CSIRO in partnership with Delfin Lend Lease and Henley Property Group, AusZEH was recognised as Australia's first Zero Emission House fit for the volume housing market.
maximising energy efficiency
What is a zero carbon emissions plan (ZCEP)?
Zero carbon emissions plans (ZCEPs) ensure that the design of a building or development is:
As energy efficient as possible through passive design principles or simply by optimising building envelope insulation, glazing, shading, sealing.
Relies on electricity for all services. They avoid fossil fuel gas and buy electricity from 100% renewable sources.
Estimates the likely energy consumption using assumptions and estimates, or more accurate building fabric and services modelling
Maximises roof space for PV panels, walls for building integrated photovoltaics (BIPV), geothermal or wind – if there is space. We will calculate the energy from renewables generation.
Equipped for electric vehicle charging
Purchases the balance via offset renewables to get carbon zero emissions.
A ZCEP will show how a building, asset or organisation will transition to a reduction of operational emissions over an agreed time frame. 2050 is the time frame commitment for all Australian state governments, which is a great start. Where possible, developments and organisations should aim to reach this point sooner, perhaps 2025, 2030 or 2040.
Reducing carbon emissions to zero by 2050 is a commitment to reduce emissions from 100% over 30 years. This equates to a reduction of 3.3% on baseline modelled (proposed) or actual energy figures in 2020. A commitment to reduce emissions to zero by 2040 equates to a reduction in emissions of 5% per year. These options are not a challenging commitment. In recent school projects we have worked on, commitments for installing PV panels will reduce electricity consumption by 17% in one year.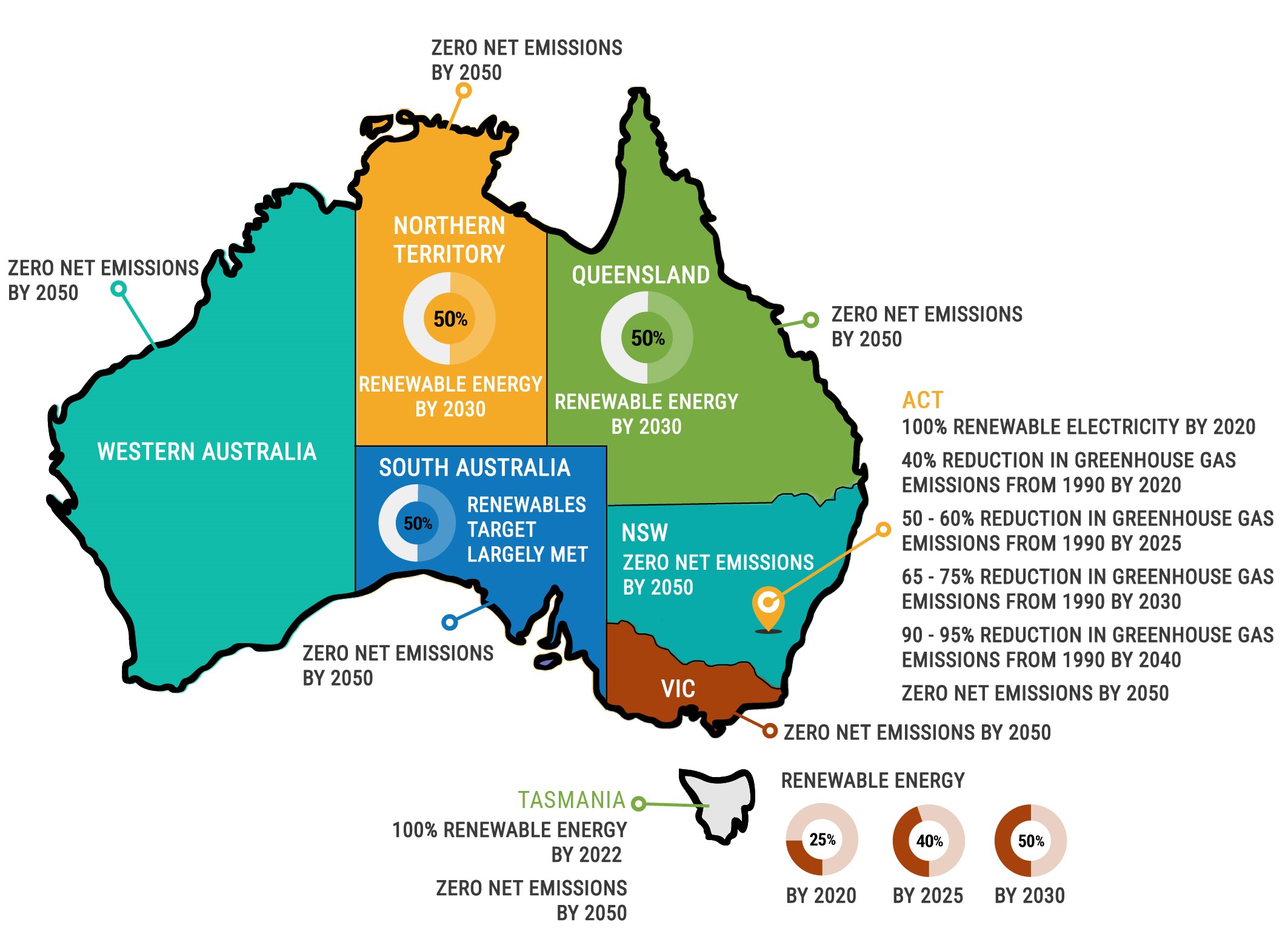 State govt renewable energy and carbon commitments by states and territories as at Oct 19 2020 from 100precentrenewables.com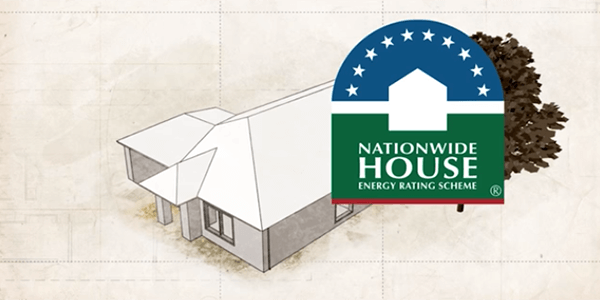 The Nationwide House Energy Rating Scheme (NatHERS) is one example of a tool that rates the energy efficiency of a home, based on its design.
The typical starting point of a Zero Carbon Emissions Plan (ZCEP) is to maximise energy efficiency of the building or asset. Realistic opportunities must be taken to do this. Where the starting energy consumption is smaller, then the absolute reductions in future years will not need to be as significant.
An estimate should be undertaken of the likely energy consumption of the proposed or upgraded development or organisation. This expected consumption should include the energy consumed for:
heating, cooling and ventilation (HVAC),
hot water generation,
lighting,
cooking,
hard wired appliances including lifts,
plug loads.
Knowing the starting point for emissions allows planning for what reductions need to occur to meet the target.
The five principals of passivhaus design are:
Insulation – higher levels use BCA standards x 150%
Window U values 1.3 – double glazed low e (Passive Haus warm temperate zone)
Heat recovery unit >75% efficiency. Use certified Passive Haus units. Ventilation units consume a similar amount of  energy use as a light globe. Filters to be changed once every 12 months.
Airtightness – Airtightness <0.6 ach (air changes per hour). Design an uninterrupted insulation barrier around the building fabric. Junctions of elements are the most challenging locations. Measure with a blower door (pressurisation test). Needs to be <0.6 ach. The AusZEH House achieved 4 ach. Average of Aus houses built in last 15 years 15 ach.
Thermal bridge free design – This is also a new requirement of the BCA 2019. Psi value measures speed of thermal bridging. Psi<0.01W/mk considered thermal bridge free. Design to avoid thermal bridging through timber studs. Add an internal layer for services so these do not bridge the insulation.
80-90% less energy use than most buildings. Equivalent to approximately 8.5 – 9.5 stars
Heats or cools required ventilation – no more
Heating <10W/m2 Cooling <10W/m2
For Passive Haus certification Primary energy (energy required to run everything in the building including heating/cooling, HWS, lights, power etc) needs to be <120kWh/m2.annum ie more than just NatHERS.
Alternative energy not required under Passive Haus classic accreditation
Low area/volume ratio – good to be <0.7 will help
No open chimney
Lager openings to the sun, smaller away from the sun
Use Passive Haus certified components eg certified heat pumps
Contact us  today to discuss your net zero carbon target requirements